Organize for School Success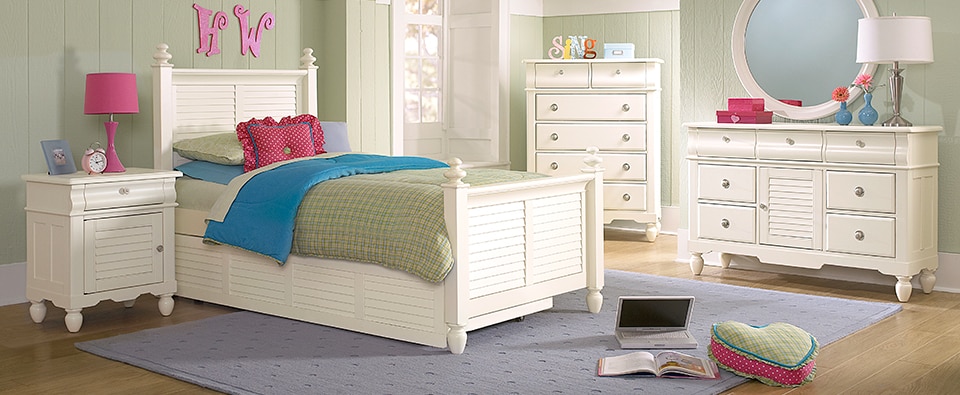 A tidy home, a tidy mind: You may have heard this age-old adage and even apply it to your everyday life, but do your kids? With summer gone and the new school year well underway, now is the perfect time to update their bedrooms with a furniture piece or two designed for clearing clutter. After all, back to school means the return of homework, another season of sports gear and an armful of new outfits.

We can help you organize your home and create a straight-A student environment with some easy storage solutions. Let's dive into common clutter problems and the solutions that will set your kids up for success this school year.
Too Cluttered to Study
Folders, papers, books, binders – make sure these essential school year items have a home with a desk that accommodates your kids' work habits and storage needs. Consider your options: A desk with a hutch offers extra shelf space and drawers for organizing books, pen cases and binders. Features like a pull-out keyboard drawer and built-in USB and power stations help to keep things in their rightful place – your youngsters can spend less time searching for what they need and more time getting down to homework.
A few seemingly simple accessories ensure everything in a study area has a go-to spot. Pen holders, storage bins and memo boards are good places to start. Magnolia Home offers unconventional versions of these pieces that are inspired by things like vintage sugar molds, antique factory tool totes, classic chicken wire – all in keeping with Joanne Gaines' signature style.
Too Wrinkled to Wear
Have you caught your kids trying to run out the door wearing clothes that look like they've been wrinkled into a ball? It could be that their dressers no longer offer the drawer space or features needed to hold all of their clothing. This is when shirts and pants wind up in a pile on the floor. Avoid this ironing headache in the mornings with a kids' dresser that features eight spacious drawers, so every outfit has a home. There are even some chests that incorporate built-in seating and a mirror in addition to several drawers.
Storage beds are also ideal for bedrooms with limited drawer space, providing up to six compartments for all of those belongings without a home. These under-bed drawers are perfect for cluttered rooms that simply don't have the space to accommodate a larger dresser.
Too Much Mess to Rest
For shared rooms on the smaller side, bunk beds are great space-savers. When it comes to single bedrooms, however, switching out a standard bed for a loft bed is one of the best ways to get organized and make room for a study area. Essentially bunk beds without the lower bunk, these leave open floor space underneath the raised bed for essential furniture, like a desk. They also provide the perfect place for futons, accent chairs and floor lamps – must-have pieces for creating a cozy reading nook or study spot.
From waking up and getting ready for a day in the classroom, to tackling homework each evening, your kids' bedrooms are where it all happens. All it takes is some rearranging and choosing the right storage solutions to get organized. We'll say it again: a tidy home, a tidy mind. And this leads to a modern-day adage: happy parents, happy kids.