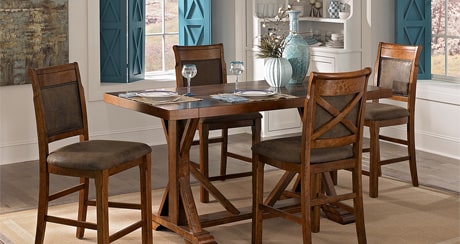 Dining Room Inspiration at Your Fingertips
Dining rooms are more than a place to sit and eat — they are where stories are shared, memories are made, and good times are had by all. Do your dining room justice with these décor tips.
---
Discover Your Ideal Dining Room
---
furnishing your first dining room
We know that choosing the right furniture is important to you and we want to help you pick pieces you can enjoy for years to come. Furnishing your dining room may seem overwhelming at first, but we can help make the process easy.
LEARN HOW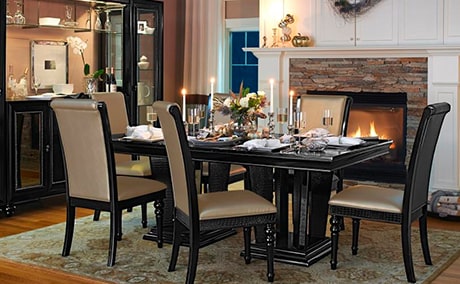 ---
prepare your place for the perfect party
You want people to have the right amount of room for chatting and even dancing, but you also don't want your place to feel empty and risk ruining the vibe of the party. We can help you master the three major parts of any party: the greeting, the seating, and the eating.
GET STARTED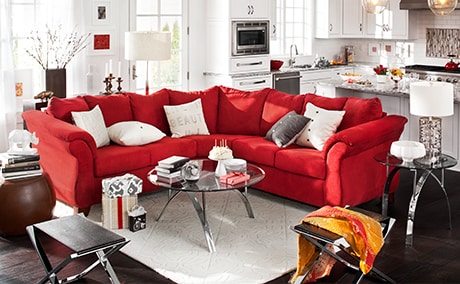 ---
furniture you should invest in
We know that not every purchase can cost big bucks, but there are certain pieces that are worth loosening the purse strings for. This guide will help you understand which pieces you should focus your dollars on, so you can decorate the perfect home the smart way.
GET THE TIPS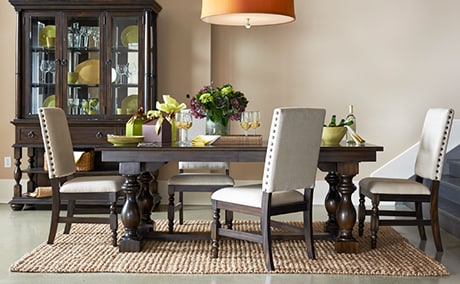 ---
Need More Dining Inspiration?
Shop Our Curated Selections
---
You May Also Be Interested In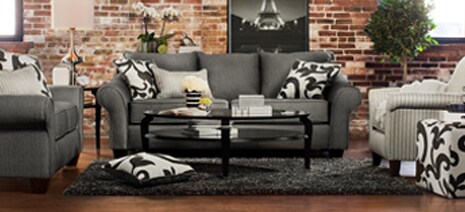 HOW TO MEASURE FURNITURE TO MAKE SURE IT FITS
Buying new furniture is exciting; you get to recreate and refresh your home with new styles, fabrics, and colors. There is, however, an aspect of furniture buying that can get a little tricky: how do you know the pieces that you see online or in a store will fit when they arrive? We're going to share some tips to help you avoid any last-minute delivery mishaps.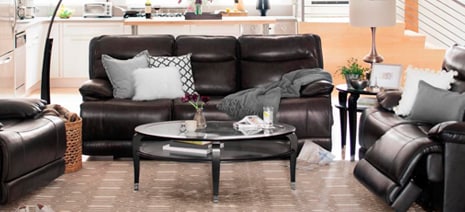 TIPS FOR LIVING WITH A SIGNIFICANT OTHER
You've spent time creating an environment that reflects who you are as an individual, and now you have to recreate that environment to reflect both of you. Compromise may not always be easy, but we're here to help. This guide will provide you with some simple suggestions to help you seamlessly transition from "mine" to "ours."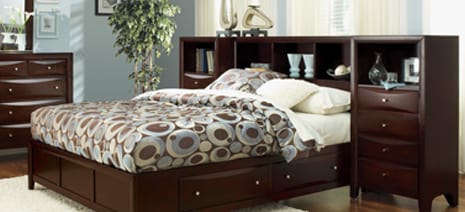 Space is the one thing no one seems to have enough of. Everyone likes to maximize their space, but sometimes it gets tough when you factor in everything that needs to fit into a room. We're going to help you take full advantage of the square-footage you have without sacrificing your taste.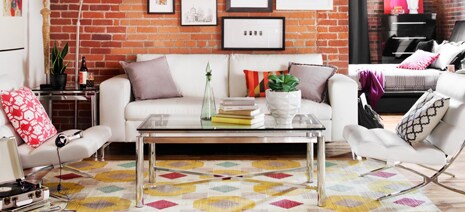 HOW TO DESIGN A QUALITY ROOM OVER TIME
Whether you're moving into your first apartment or settling down in your first house, it's important to understand that designing a completed room takes time and a big dose of patience. We'll help you master the beginning steps to creating a room so you can make your new home look perfect.