Use Furniture to Declutter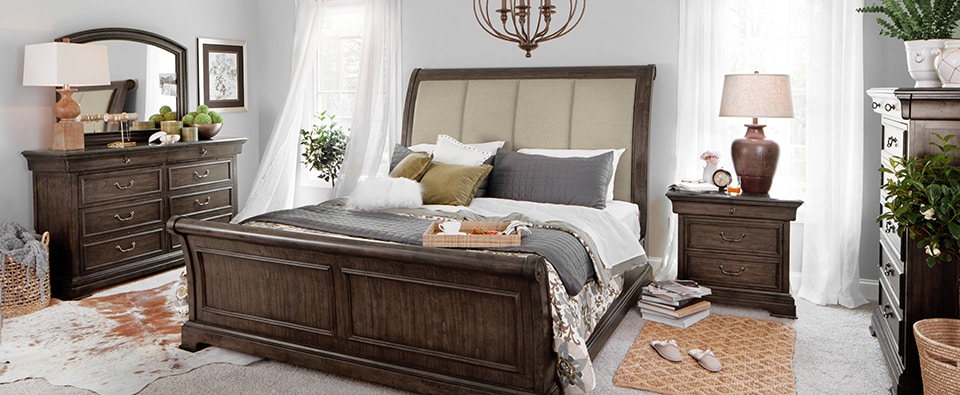 Whether it's your bedroom, living room or dining room, clearing clutter is a challenge that feels almost insurmountable. Almost. We've got some organizing tips in the form of furniture pieces to help you declutter without a lot of fuss. Soon, you'll be an ace at clearing space, giving you much more peace of mind to enjoy spending quality time with your family and friends.
Bedroom Storage Solutions
You know that chair in your bedroom holding clothes you "may" need later? If you do, it's time to replace that system with one that keeps your wardrobe under wraps, and adds cool style to your space. The perfect bedroom storage solutions promote organization and avoid the buildup of clutter to ensure long term organization in your bedroom. Check out our solutions below!
The Dresser
When you're considering how to organize your bedroom, start with a bedroom staple: your dresser. It stores clothes inside, of course, but think about other bedroom essentials. A bureau top can hold a TV and electronics, bookends filled with your favorite reads, or even a tiered dessert plate to keep perfume bottles or jewelry looking extra stylish. Some dressers include slide-out jewelry trays or a flip-up mirror to allow for better organization.
The Armoire
If you find yourself tight on closet space, consider an armoire — it gives you plenty of drawer space as well as a storage cabinet for hanging clothes. And if you've treated yourself to a brand-new dresser or chest, don't get rid of that old one just yet — consider repurposing its drawers by painting them and hanging them on the wall for shadow box-style storage and display.
Essential Living Room Organization
Messy living rooms are easy to come by when your life gets busy and your time dedicated to cleaning is cut short. It is important to keep your living room organized as it plays a pivotal role in connecting family and friends. Whether baby toys, dog toys or books, we have the ultimate solution for keeping your living room clutter-free. And don't worry, we have plenty of pieces that will match seamlessly with your existing set up.
The Storage Ottoman
When you're ready to declutter your living room, you can start simple with just one piece of furniture. When it comes to ottomans, the storage ottoman is now the new standard. (Can we get a clutter-fighting superhero award for whoever designed them?) Previously wasted space, the interior of a storage ottoman keeps all that stuff that inevitably piles up on and around the couch: TV and gaming remotes, tablet and charger, throw blankets, magazines, board games…the list goes on.
If you entertain a lot, or just like to nosh in front of a movie, look for a storage ottoman that has a reversible lid. Just flip the lid over and you've got a serving tray for drinks and snacks. And when there's a gathering afoot, a storage ottoman can serve as extra seating — it's much more organizational-friendly than storing folding chairs in a coat closet.
A Clutter Free Dining Room
---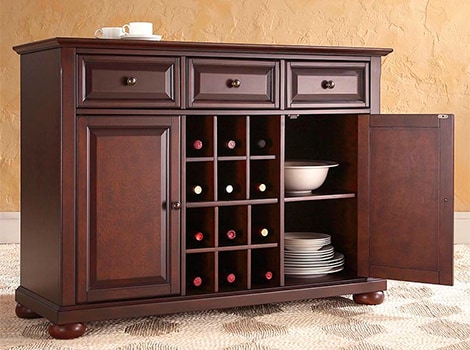 Buffets, Hutches, and Keeping Tables
Clearing clutter in your dining room can sometimes feel as hard as interpreting that faded old recipe card from Grandma. But with a couple of perfect furniture partners, you can be sure everything has its place.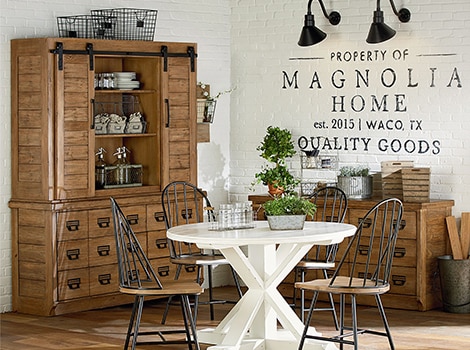 Buffet and Hutch
When it comes to the bedroom, experts suggest placing your bed far from the door to establish feelings of privacy and safety as you sleep. Experts also recommend introducing accessories like mirrors to move the natural light throughout the room and make it feel more open. Incorporating plants into your décor also brings life and energy to your personal space.
No matter which piece you choose, it can help you get organized for dinner parties like a pro: store pre-assembled place settings in one of the drawers (wrap a pretty napkin around silverware, and tie it up with ribbon), so you can save time — and your sanity — when the water's just about to boil over in the kitchen.
Perfect Pieces for Organization and Harmony at Home!
---